"

Melissa Ellis has long been a staple of our concert music series at the Cumberland County Playhouse. Her smooth sound and comic wit keep our audiences laughing and entertained. It is always our pleasure whenever we are able to get her on one of our stages." - Sam Hahn - Concert Producer, Cumberland County Playhouse
Melissa Ellis - EPK
The Southern Spitfire
Melissa Ellis possesses an unmatched vocal style and power that packs one serious punch making her The Southern Spitfire of Jazz! With her versatile maneuverings between a warm opulent tone and texture, reminiscent of classic jazz sirens, to her soulful delivery and distinctive growl of the blues, Melissa has concocted an unforgettable signature blend of jazz and blues coupled with her charming, southern accent.
A 2022 Josie Award Jazz/Blues Vocalist Nominee, her most recent EP "Live: In the House" is a live concert album that includes familiar jazz/blues melodies, but also features her song "Dirty Little Secret" that has been receiving play on jazz airwaves.
Melissa is currently collaborating on a jazz project with jazz piano virtuoso, John Colianni.
Media
0:00/4:18

0:00/4:28

0:00/2:50

0:00/4:18

0:00/2:28

0:00/3:44
PRESS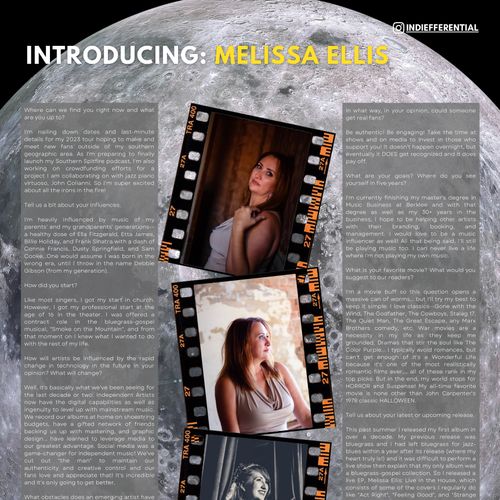 InDIEFFERENTIAL
January 2023
INTRODUCING: Melissa Ellis